SPORTS TOWEL WITH NET BAG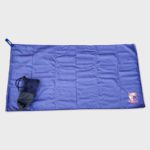 SPORTS TOWEL WITH NET BAG
SKU:
Price: $25.00
Newly launched in 2019, this navy coloured microfibre towel that proudly bears the ACS crest on both sides, measures 100 cm x 50 cm.
It is quick drying and compact , and will meet all your sports, swimming and gym needs .
Comes with a compact net carrier bag . Suitable for parents and boys!
Dimensions: 100cm x 50cm (Bag 20cm x 10cm)